| | | | | | |
| --- | --- | --- | --- | --- | --- |
| | Cat Mate Fresh Water Drinking Fountain | Isolated Pump– Water Filter – Multi-Height Drinking Levels | Mid Range | | SHOP NOW! |
| | Catit Original Flower Fountain 3 Litre Water Fountain | 3 Litre Capacity– 3 Different Water Flow Options – 2p per Day to Run | Affordable | | SHOP NOW! |
| | YOUTHINK Auto Circulating 1.6L Silent Pet Fountain | 3 Different Flow Options – Silent Generator Pump – Carbon Filter | Affordable | | SHOP NOW! |
Top 3 Cat Drinking Fountains
Cats, just like any other animals, need to drink water every day to survive. While they require clean and accessible water throughout the day, cats tend to be very fussy when it comes to drinking water, and for that reason, cat food is nearly always wet with added water. To ensure your cat is getting proper hydration, you will need to invest in a good, filtered drinking fountain from which it will sip happily throughout the day. Since they are so particular about their water drinking, you need to find one that is going to be suited to your cat whatever their mood is. Different height levels, minimal splashing, and quiet pumps are all things that are going to make the business of hydrating a lot more pleasant for your beloved moggie. Here are the most popular and highly recommended fountains on the market today, let's take a look at their features:
Cat Mate Fresh Water Drinking Fountain Review – Our Number 1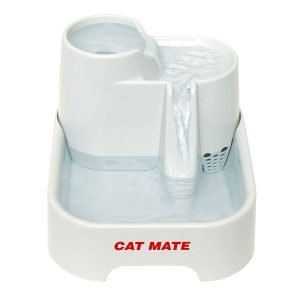 This Amazing drinking fountain (view on Amazon) from PetMate is aptly named the Cate Mate. Here's why your whiskered friend will keep returning to the fountain to enjoy the relaxing, hydrating experience time and time again:
This product has an excellent waterfall design, with multi-height drinking levels and a gentle pool there's
This product provides clean, fresh and filtered drinking water for the best hydration possible.
It features an Isolated pump – quiet operation that will not bother, scare cats away while drinking
The carefully placed water ramp eliminates splashing, keeping fur dry in the process.
Safe low voltage power supply safe and economical for efficient energy saving
Friendly with very gentle stream with an adjustable flow dial on the side
Strong durable plastic, with lower handle for easy lifting and carrying
PetMate's Fresh water fountain is a fantastic product. Its design considers every aspect of the drinking experience to ensure the experience is not only inviting but enjoyable for cats. Its waterfall design creates an oasis of fresh, pure water an instrument of health and wellbeing for your whiskered companions. Overall, this is a very worthy product for any fussy cat.
Summary
Features: Isolated Pump– Water Filter – Multi-Height Drinking Levels
Pricing: Mid Range
Catit Original Flower Fountain 3 Litre Water Fountain Review – Number 2
The Catit Flower Fountain immediately catches the eye with its unique flower design. Great care has been taken in the design of this product, with 3 different drinking options available to fussy moggies.  The robust and original water fountain has many other features which are inviting and friendly to your cat's health:
This product uses a specially designed running water system where your cat has the option of 3 different water flow settings to entice even the fussiest little drinkers with a 'gentle flow, bubbling top and calm stream flow'.
The Catit flower fountain has a reservoir capable of storing up to 3 litres of water- meaning your cats have a fresh supply of water all day without you having to top it up.
With its extremely efficient energy saving design, it costs just 2p per day to run!
Very quiet pump
Includes a Triple Action Filter- which continuously purifies and softens hard tap water to help prevent urinary tract disease.
Traps and retains hair and debris for pure, clean drinking water.
This Fountain from Catit is very thoroughly designed, covering all possibilities when it comes to the preferences of more picky pussy cats. In a middle end price range, It is a very good and any cat would struggle to stay away from its happy flower design. It's also seriously economical with it's 2p per day running cost, a no brainer for middle budgets from us!
Summary
Features: 3 Litre Capacity– 3 Different Water Flow Options – 2p per Day to Run
Pricing: Affordable
YOUTHINK Auto Circulating 1.6L Silent Pet Fountain Review – Number 3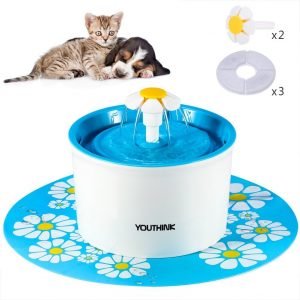 This is another awesome cat water fountain that completely trumps the idea of a water bowl and is guaranteed to win your whiskered tom's curiosity. Considering its excellent features combined with equally excellent price, it is a win win for houses on a budget! Let's take a look at its key features:
3 different flow options – bubbling, gentle running stream or pool.
Ultra low noise Auto circulating with a silent submersible pump for up to a massive 20,000 hrs quiet operation even at night.
Low power consumption, continuously usage of only 1.5 degrees a month.
6 liter water holding capacity
Carbon filter can filter impurities such as hair and dust and debris keeping water pure and clean.
This product also includes a free waterproof silicone mat in the case of water being splashed out onto the floor. (Can also be used as a food mat.)
The Silent Pet Fountain has a worthy spot on this top three list. It has earnt its place with its vast array of features, fun and friendly design and great value. It is sure to bring fun and enjoyment into any drinks break and will go easy on the wallet. A great all round product for less.
Summary
Features: 3 Different Flow Options – Silent Generator Pump – Carbon Filter
Pricing: Affordable
Verdict
For its waterfall design and its blissful drinking experience, Cat Mate Fresh Water Drinking Fountain inevitably lands the top spot on our drinking fountain top three. Drinking regularly is important for your cat's health, as it helps maintain proper kidney function and prevents crystal formation which can lead to urinary diseases. This means It is essential to ensure your cat is comfortable and happy drinking. If Cat Mate Fresh Water Drinking Fountain was any more inviting humans would be drinking from it too, it has endless features to ensure your cats will not go dehydrated and is well worth the forking out of the higher price.  After all the phrase 'you can't put a price on health' applies to pets too! With this product whatever happens you know are going to be getting a very efficient, reliable and durable fountain that won't let you down.