Table could not be displayed.
Top 3 Cat GPS Trackers
Whether it's one curious cat you've got or five, it is always a challenge keeping track of our beloved pets. Unlike other animals, they can be trusted without a cage to wander around before returning home to the warmth. The clever moggies know their way home and can explore outside of their free will. One thing they are not so quick to pick up on is their curfew, however, and can sometimes leave owners wondering nervously if their mischief had led them a little too far from home or gotten them into trouble. Rather than pacing nervously at home, you can now put your hearts at rest with new cat GPS trackers, so you never have to worry about where you're curious cat has wandered off to. Here are our top three best GPS trackers, to put your hearts at rest and allow your cat to roam without your stress.
Weenect Cats – GPS collar for cats Review – Our Number 1
This GPS Collar from Weenect puts family first and ensures you never have to worry about a runaway kitty again. Not only can you track your cat, but you can even voice call it! Weenects understands that many people consider their pets as their children and so they've included everything to give you peace of mind when your babies are out, Here's why Weenect cats GPS collar is an essential for cats who like to roam:
This product features UNLIMITED GPS tracking – no limit is too far for a real time GPS link to a smartphone or device (Free android app)
This product's Runaway alert will ensure that you know immediately if your beloved pet has runaway, giving you the chance to track it down via GPS and find it in no time.
Exploration history which you can view on a smartphone or device (Free android app)
Low battery alert at 30% and 15% with easy battery charge and change
Voice call: ten minutes a month so you can hear you cat and it can hear you telling it to come back!
Comfortable collar with adjustable sizes and non-bulky or heavy GPS pack.
There is very little that WeenCat has not considered with this small GPS collar to keep you and your pet content and happy. One of the only cat collars to offer voice calling, you can personally tell your curious kitty to come back home from your smartphone, or collect them with the unlimited GPS location tracking. Its comfy, compact and with a long lasting battery which will tell you when it's running low with an alert. Is there any reason to pace the around living room again?
Summary
Features: Free Android App – Unlimited GPS tracking – Call Feature 10 mins a month
Pricing: High End

Futureway Mini GPS Pet Tracker for Dogs and Cats Review – Number 2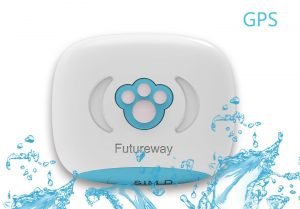 The Futureway Mini GPS Pet Tracker proves to be a really friendly and good quality pet tracker. With its extremely compact and portable chip on the adjustable collar, your pet will hardly notice it and happily roam – carefree while you sit back equally happily at home knowing exactly where your beloved cat is at all a times.  The easy and fun collar includes many other important features too, here are a few of its others.
This cat tracker features UNLIMITED real time GPS tracking globally, used with 2g GSM network. Perfect for pets who like taking long strolls.
This smart GPS tracking device is Lightweight and comfortable and will fit any size with its included adjustable collar
Robust and Waterproof with strong silicone case that won't rub.
The chip will provide not only real-time tracking but tracking history, remote shutdown, alarm messages, battery power display.
Free iphone and android app included so your pet can be monitored by the entire family at the same time!
This ultimate GPS tracker from " could well live up to it's name. In a middle end price range, and lasting for a long time, this product could certainly be the economical choice for those households with more cats in then people!
Summary
Features: Unlimited real time tracking – Waterproof silicone case – Adjustable collar
Pricing: Mid Range

Kippy Pet GPS Tracker for Dogs and Cats Review – Number 3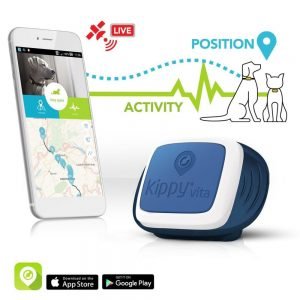 This is another GPS that can do far more than just provide a Location. Considering its bargain price, it has some impressive features, and is right up there with some of the higher priced ranges of Trackers. Here are its key Features:
UNLIMITED REACH -The Kippy is a very advanced activity monitor that allows you to pull up the exact location of your pet or any animal anywhere using its 'geo-localised' system.
This product allows you to track your pet's activities and set goals to maximise time.
App included free – combines with a simple app that is available for any Apple and Android devices.
This product is very simple to attach to your pet's collar or harness and conveniently track them via your smartphone, iPhone, or tablet with the App.
The geofence (or virtual fence) feature, for example, allows you to receive alerts when your pet leaves a designated area so that you can prevent it going to dangerous locations.
GPS pet tracker updates the location of your cat every 4 seconds, so you can monitor them with near real-time tracking including knowing what activities they're doing such as sleeping, walking, running, playing and how many calories they burn.
The Kippy GPS tracker is a durable, lightweight and simplistic product that leaves you wondering; what can't it do? It has a many of the most important features and more and is extremely cost efficient. The app features numerous useful features all that help you track the location and monitor the activities of your pet you can also be sure that it doesn't go anywhere dangerous. This is sure to make great value and useful addition to any household with curious pets.
Summary
Features: Specific Activity monitoring  – Unlimited Reach – Location Alerts
Pricing: Affordable

Verdict
All three trackers on this list are unbelievably helpful pieces of kit that will ensure the safety of your pet and peace of mind. While each product was a worthy contender in their own right, we of course chose the Weenect Cats – GPS collar for cats simply for its endless features including the amazing  and unique voice calling. While it's the most expensive on our list, it is still fantastic value and will last for a long time keeping your pet safe. Its unlimited tracking means pets can wander across the country and they'll still be seen from home! The free and easy to use app allows you to sit back and relax and happily watch your furry friend roaming contentedly without a worry. What's more you can call your cat home for dinner!