Table could not be displayed.
Cat Litter
Whether its one cat you've got or five, it is never a pleasure dealing with litter, yet it must be done and is a real gesture of care and love to our beloved pets. In the past, a litter box may have been a smelly or expensive addition to welcoming a cat into your home but now times have changed. Not only are litter powders odor blocking and quick clumping to soak up any seeping, but most are also 100% additive and chemical free so completely cat-friendly. Afterall our furry friends deserve the very best for their personal business, and no less! Here are 3 of the best, cat friendly litter powders out there, to make the whole business easier for pet and owner:
Cat Litter Clumping Odor Control Baby Powder Review – Our Number 1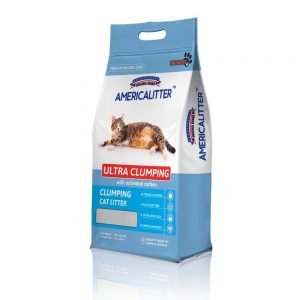 This 15kg bag from AmericaLitter maintains the company's reputation as a one of the leading brands of good quality cat Litter. Its specially designed to be 'ultra clumping so you don't have to worry about mess getting anywhere where it shouldn't be. Here's why it's hard to go wrong with this convenient, easy litter formula.
This product has an excellent 'quick clumping feature' so that any seeping, or leaking is quickly soaked up and trapped – it won't even reach the sides or bottom of the tray.
This product's odor control completely blocks smells and even has a gentle fresh aroma that ensures any business will not leave a room smelly.
Great for the Environment, with natural sources.
The cat litter is Chemical and Additive free – cat friendly and not harmful to their health.
Really easy scooping, quick tray filling and especially with the clumping formula, easy, clean and quick tray emptying.
99 % Dust free
Kitten Friendly
Strong durable bag, with strong handle for easy lifting and carrying
AmericaLitter's clumping odor control baby powder is a fantastic product. Its reliable quick clumping makes the process of dealing with cat litter cleaner, more hygienic and odor free. Overall, this is a very worthy product for any furry friend.
Summary
Features: Odor Control – Quick clumping – Chemical and additive free
Pricing: High End

Cat Litter – Cats Best Okoplus Clumping Cat Litter Review – Number 2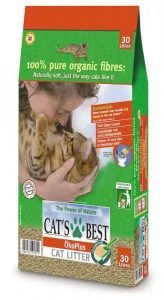 The Cats best proves to be a really friendly and good quality litter. Cats best does not fail to provide an organic and natural litter that rivals other pet supplies.  The long lasting bag has many other attractive feature, here are a few of its others.
This cat litter has 100% pure organic fibres, making it friendly and non harmful to your cat's health
An Clumping formula that traps excess liquid and compacts litter for easy disposal.
Deodorising feature for smell control, masking and trapping strong odors.
Economical and long lasting, not a lot of litter is needed to clump each use.
Lightweight, easy on the bin bags and great for less able members of the public.
Not Dusty
This cat litter from Cat's best could well live up to it's name. In a middle end price range, and lasting for a long time, this product could certainly be the economical choice for those households with more cats in then people!
Summary
Features: 100% organic Fibres– Clumping – Long-lasting
Pricing: Mid Range

Karlie Flamingo Cat Litter Baby Powder Review – 

Number 3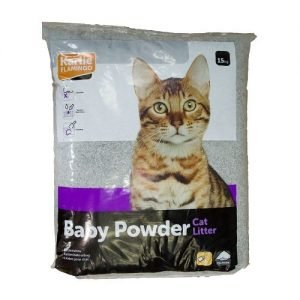 This is another cat litter that can do far more than just provide a place for moggies to go 'do their thing'. Considering its bargain price, it has some impressive features and is right up there with some of the higher priced ranges of litter.
Anti-clinging. This product's formula will not stick or cling to fur, so you can be sure it will not follow your pet around the house.
Clumping feature to trap liquid and make one big clump for easy and quick disposal
Minimal Dust
Lightweight, great for putting waste in bin bags without the chance of splitting.
Cheap price
recyclable bag
Kitten friendly
The Karlie Flamingo is a durable, lightweight and simplistic product. It has a many of the most important features and is extremely cost efficient. you can also be sure that you will not find the product on your animal's fur. This is sure to make cheap and useful addition to any family with pets.
Summary
Features: 'Anti – clinging' to fur– Lightweight – Clumping Feature
Pricing: Affordable

Verdict
The top spot on this list undoubtedly goes to the AmericaLitter Clumping Baby Powder. It has endless features and is well worth the forking out higher price. All factors have been considered in the making of this product to ensure that the cleaning up your pet's business as bearable and easy as possible. From the Amazing anti clumping feature, and the efficient odor control to the convenient handle for easy carrying it makes a high quality cat litter for any cat owning household. Additionally, with a renowned brand AmericaLitter, you know are going to be getting a very efficient, reliable and durable product that won't let you down. It'll keep you and you furry felines content.