Table could not be displayed.
Top 3 Cat Deterrents
It is a common sight to see pets and animals being favoured with special treatment that no human, no matter how furry, would dare try to get away with.  However even our privileged furry friends do have boundaries – especially when it comes to our gardens . On the list of banned behaviour is trampling the flower beds, digging holes all over the garden, and of course, doing their business on neatly cut lawn. In the past, an unwanted intruder may have been chased off by stepping out into the cold in your PJ's and slippers, banging pots and pans and shouting shoo! But now, times have changed. One can now buy an efficient repellent, to deter any visitors safely and quietly without even stepping outside in those fluffy slippers. with ultrasonic technology, an intruder will be detected long before it has time to get up to any business and rest assured, your gardens will stay pristine as ever. Here are 3 of the best, most advanced repellents, to eliminate the chance of pesky pests ruining your hard gardening efforts :
Commander Ultrasonic Outdoor Home Guard Electronic Cat Repellent Review – Our Number 1
This Deterrent from the commander maintains the company's reputation as one of the leading brands of good quality animal repellents. It's specially designed to be very friendly so you don't have to worry about the harming of any animals when repelling them from your lawn. Here's why it's hard to go wrong with this convenient, easy deterrent:
This product has record-breaking trigger field, a record-breaking near-180 degrees sensor viewing feature, meaning it activates within a 180 radius and catches pesky pests in the act no matter where they try to sneak their way in!
This products Solar powered rechargeable batteries are reliable and long-lasting.
Great for the Environment, with solar batteries.
Uses three oscillating ultrasonic frequencies to drive the pests away – the most efficient on the market.
Features a flashing LED strobe light that is non- invasive to human eye and will repel any pest within over 30 feet.
this product is virtually indestructible to any animal around – weatherproof and waterproof, extremely durable with advanced hardened polymer technology.
Completely animal-Friendly – does not cause any harm to animals.
Reliable and easy, no installation required, just put it in your garden and let it handle the rest!
Commander's Pest & Animal Scarer Repeller– is a fantastic product. It can safely repel animals of every size -Cats, Dogs, Deer, Goose, Bird, Rabbits & Squirrels- are all detected by the motion Triggered Detection feature. Its reliable and durable design and its quick and easy set make it a simple and efficient piece of kit.Overall, this is a very worthy product for any household.
Summary
Features: 180 Degree Trigger field– Ultrasonic Technology – Durable design
Pricing: High End
PestBye Ultrasonic Battery Operated Motion Activated Cat Repellent Review – Number 2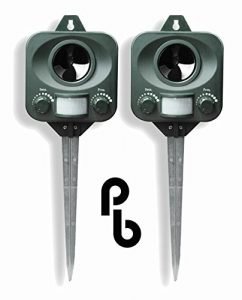 The PestBye Motion Activated Cat Repellent proves to be a really efficient and superb quality animal scarer. It does not fail to provide an easy, efficient and simple product that rivals other pet repellents.  The long-lasting battery and the Infrared motion sensor are just some of the attractive features, here are a few of its others.
This cat repellent is a fully safe/humane way to keep unwanted pests and intruders like cats, dogs, Foxes, Squirrels, and Rodents out of your garden
Comes complete with an adjustable sensitivity and frequency depending on the animals.
An infrared motion sensor – advanced sensor technology – day and night!
Long lasting solar powered battery for frequent use year round
Durable and robust design, won't be easily knocked over or damaged by any aggressive intruders.
Sturdy enough to face any rough weather that nature can throw at it.
Easy installations with the compact and simple setup.
Stylish design, so it won't look ugly or out of place, but fit in amongst shrubs or plants.
This Cat repellent from PestBye sure lives up to its company's name. You can say goodbye to the sneaky pests without soaking your slippers or having to cause a racket. In a middle-end price range and a well-rounded quality design, this product could certainly be the economical choice for those households with frequent visitors!
Summary
Features: Infrared motion sensor– Battery operated (long-lasting) – Adjustable Frequency
Pricing: Mid Range

INTEY Ultrasonic Solar Powered Cat Repellent Animal Scarer Review – Number 3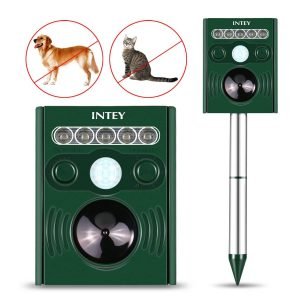 This is another repellent that can do far more than just provide a noise when some creature comes close. Considering its bargain price, it has some impressive features and is right up there with some of the higher priced ranges of the deterrent. Here are it's stand out features:
This product features a strong ultrasonic wave to scare intruders off, activated when an intruder enters PIR Sensor range fighting them off the lawn. It's possible to choose between 5 different frequencies depending on the model.
Fixed sensor features an impressive high sensitivity PIR sensor
The economical and battery saving feature, returning to hibernation mode when movement is not detected nearby.
Easy installation without any wire needed, just needs rechargeable batteries, or you can also charge it with a 5-12V adapter.
Solar powered, great for the environment
Weatherproof – can survive any cold icy weather or strong winds, also resistant to any high temperatures in the summer.
The INTEY Ultrasonic cat repellent is a durable, lightweight and simplistic product. It has a many of the most important features and is extremely cost-efficient. One can also be sure that this product will be able to guard gardens nobly and courageously against any that dare to enter. This is sure to make an inexpensive and useful addition to any lawn.
Summary
Features: PIR high sensitivity sensor – Weatherproof – Hibernation mode
Pricing: Affordable
Verdict
The best buy for your buck has to go to the Commander Ultrasonic cat repellent. It's wide array of important features and its advanced technology are well worth the extra cash. It seems Commander had considered every garden owners issues when it comes to repelling unwanted guests and have made sure they got you covered with this ultrasonic deterrent. From the Amazing and unique 180-degree detection feature to the convenient and easy setup it makes an efficient and master repellent for any pest-attracting household. Additionally, with a brand like Commander, you can be assured that a very efficient, reliable and durable product will grace your lawn. It'll guard your garden like a brave warrior and sent naughty pests on their way!