Table could not be displayed.
Top 3 Cat Flaps
Whether its one cat you've got or five, it is always a challenge to keep track of wandering moggies, and harder still to get them to come inside on time! Most will agree that cats are simply too independent and prefer to do their own thing. For a long time, the solution to this problem has been a simple catflap, a hinged feline door within a human door so happy cats can pop in and out as they please. The unwanted problem most have discovered, however, is that it's not only cats who enjoy the human pleasure of having their own door into a warm and food-filled house! Now, however, companies have decided to do something about it. Cat flaps are on a whole new level with operation sensors to ensure the flap only opens to a cat and not to just any old pest hoping to get a bite of the sunday roast. Here are 3 of the best, most advanced cat flaps out there, to keep unwanted intruders
out and to give your cat the freedom it needs:
Sureflap Microchip Pet Door Reviews – Our Number 1
The Sureflap Microchip Pet Door does not fail to provide an advanced and excellent catflap that rivals other pet supplies. The long lasting battery and curfew feature are just some of its many attractive features, here are a few of its others:
This catflap feature an impressive, sensitive microchip technology which is the only product on the market that comes compatible with any microchips out there and with collars.
Advanced Sureflap RFID Collar tag included in package, nice design, easy setup with the door and comfy to wear.
Completely safe to animals, they will not know the microchip is working and will not harm their health in the slightest
Economical and long lasting, with the required C cell Batteries lasting up to 1 year without needing to change! (with normal activity).
Lightweight, easy installation with minimum physical effort required and applicable to most doors.
Sleek and stylish design, looks modern and simple on any door.
Mininmal noise on entering and leaving, no banging or creaking of hinges.
This Pet door from Sureflap is one of the best and high quality options around. In a High end price range, but with a collar included and lasting for a year, this product is well worth the extra bucks for you and your feline friends.
Summary
Features: Compatible with all Microchips– RFID Collar included – Long-lasting Batteries
Pricing: High End

PetSafe Microchip Cat Flap Review – Number 2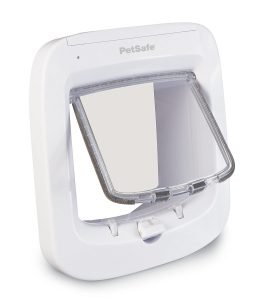 This is another cat flap that can do far more than just a whole in the door with a creaky hinge.
Considering its excellent mid-range price, it has some impressive features, and is right up there with some of the higher priced ranges of Cat flap.
Microchip Technology compatible with many common microchips out there today. No collar or tag needed with this product.
This product features 2 magnetic closure door locking points to increase heat retention and save energy
Unique draught excluder, meaning it features a special insulating design, improving efficiency and reducing draughts
Suitable for PVC, glass doors and even brick!
Easy installation including only 3 simple steps. Quick and simple for any household
Durable plastic design is specially designed to be as secure as possible, with double latch and a central four way locking system, it is sure to keep out any unwanted intruders.
12 month minimum battery life and 3 year manufactures guarantee
The Petsafe catflap is a durable, lightweight and simplistic product. It has a many of the most important features and is extremely cost efficient. You can be sure to get at least one year one the same batteries and to maintain a warm and cosy house on cold winter days with the insulation system. This is sure to make economical and useful addition to any family with pets.
Summary
Features: Draught Excluder– Magnetic closing doors – No collar microchip sensor
Pricing: Affordable

Sureflap Microchip Cat Flap Review – Number 3
Even at this amazing price this advanced catflap from Catflap lives up to the company's name as a sure way to ensure only cats will be using their flap. Its specially designed to have microchip sensor so you don't have to worry about losing a collar or tag. Here's why it's hard to go wrong with this convenient, easy catflap.
This product has an excellent microchip technology which comes compatible with three different sizes of chip: 9,10 and 15 digit microchips
This product's microchip monitor works by detection of microchip alone, so there's no need for collars or tags which could get lost or damaged
The 4 AA batteries that it requires can last up to a whole year without being changed – which is certainly an economical and environmentally friendly design.
The catflap is completely cat-friendly and not harmful to their health.
Easy and quick installation with instructions and help offered.
Strong and durable, for frequent use
Yet another catflap from the trusted company Sureflap, which is a fantastic product and sure to get the job done with most microchips. Its reliable brand, easy installation and bargain price makes it a real contender against the more expensive designs. Overall, this is a very worthy product for any furry friend.
Summary
Features: Microchip technology – Long lasting Batteries– No collar or tag needed
Pricing: Midrange


Verdict
The top spot on this list undoubtedly goes to the Sureflap Pet door. It has endless features and is well worth the forking out higher price. All factors have been considered in the making of this product to ensure that the freedom of your pet as simple and easy as possible. From the excellent compatibility with any microchip, and the excellent included collar tag, to the convenient, sleek design it makes a high quality cat flap for any cat owning household. Additionally, with a renowned brand Sureflap, you know are going to be getting a very efficient, reliable and durable product that won't let you down. It'll keep you and you furry felines content, and unwanted visitors away!