Table could not be displayed.
Top 3 Cat Litter Boxes
Litter boxes are essentials when it comes to owning a cat. Whether it's just the one you've got or five, it is never much of pleasure dealing with cat litter, yet it must be done and proves how much we care for our beloved pets. In the past, a litter box may have been a smelly or expensive addition to welcoming a cat into your home but now times have changed. Not only are litter boxes compact, simple but also now that they're self cleaning, moggie business is more hygienic than ever. Afterall, our furry friends deserve the very best for their sensitive business, and no less! Here are 3 of the best, cat friendly litter boxes out there, to make the whole process easier for pet and owner:
Litter-Robot III Open-Air – Automatic Self-Cleaning Litter Box Review – Our Number 1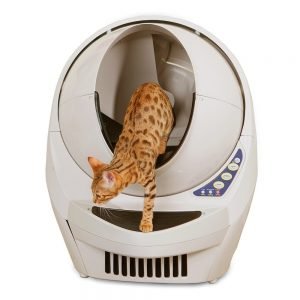 This Litter box from Automatic Self-Cleaning Litter Box stands out as one of the most advanced and high tech litter boxes on the market. It's specially designed to be self-cleaning so you don't have to worry about leaks and remnants left behind. Here's a whole list of reasons why it's hard to go wrong with this convenient, easy litter box:
This product features the super odor control, a large ergonomic litter chamber, to literally trap smells and leaks from leaking beyond the chamber.
The litter box is on a timed cleaning cycle, so you can go about your day to day work without having to worry about regular attention and cleaning
Automatic MoonGlo NiteLite (Blue Led) for night and day sue
This product includes a Self Adjusting Cat Sensor – it knows when the cat has come to do its business.
Large Upward Facing Entry for 'Open Air' Feel providing the most natural experience for your mog.
It comes with an impressive 24 months full warranty so you can be assured to have a fully working litter box for upto 2 years and beyond.
Litter Robot's self-cleaning Litter box fantastic product. Its reliable self cleaning cycle means you don't have to do it yourself dealing with cat litter cleaner, more hygienic and odor free for everyone . Overall, this is an advanced and seriously futuristic product for any furry friend. They will be they envy of all cats around town.
Summary
Features: Self cleaning cycle timer– Self adjusting cat sensor– 24 month warranty
Pricing: High End

PetSafe ScoopFree Ultra Self-Cleaning Litter Box Review – Number 2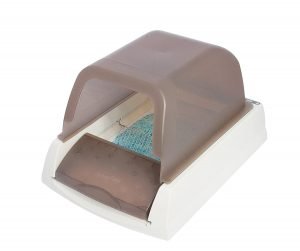 The  PetSafe  Self-Cleaning Litter Box proves to be a really friendly and good quality Litterbox. It does not look ugly or stick out in a room but has a simplistic design that rivals other pet supplies.  This litterbox is a reasonable price and its features are impressive, lets take a look at why it made top 3 on our list:
This cat litter box features a built- in rake that automatically removes waste into a concealed area; disposable litter tray does not even have to be dealt with for up to 30 days. Its ultra quiet and
To ensure the privacy of your cat during its sensitive duties the box has a built -in privacy hood reduces the tracking of litter and gives your cat extra discretion during it business.
Deodorising feature – The tray's crystals absorb waste and all foul smells, meaning litter can be left for long periods of time without changing – odor free!
Economical and long lasting, not a lot of litter is needed to clump each use.- in fact between 5 to 10 times less crystal litter is needed than conventional clay litter boxes.
Lightweight for portable use
This Litter box from petsafe  could well live up to it's reputation as a safe and friendly company to keep cats happy. In a middle end price range, and needing minimal attention throughout the day this product could certainly be the economical choice for those households with busy humans (and busy cats!)
Summary
Features: Long lasting Litter crystals– Built in Rake – Privacy hood
Pricing: Mid Range

Catit Smart Sifting Pan Review – Number 3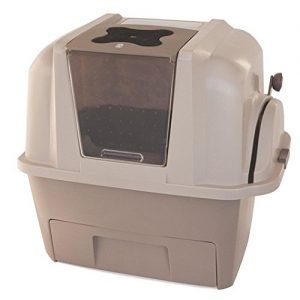 This is another Litter box that completely blows away our expectations of what makes a top litter box. Considering its bargain price, it has some impressive features, and is right up there with some of the higher priced ranges of litter.
This products has Closed design – which means no mess, odour free and dust free!
The simple design means all you have to do is pull the lever to sift and refresh the cat litter
This product features a unique carbon filter – helps control odours and keeps the house smelling rosy
Suitable for clumping litter catching all leakages, smells in a clump for easy disposal
Lightweight design for portable use
Durable and tough plastic shell
The Catit smart sifting pan is a durable, lightweight and simplistic product. It has a many of the most important features and is extremely cost efficient. The product ensures that cat litter will not be noticed by sight or smell and keeps human and cat happy as can be. This is sure to make cheap and useful addition to any family with pets.
Summary
Features: Anti Odor control – Lightweight design  – Clumping feature for absorbing liquid
Pricing: Affordable

Verdict
Our verdict for the number 1 litter box most certainly goes to the Litter-Robot III Open-Air – Automatic Self-Cleaning Litter Box. the robotic machine does all the work for you and Its endless benefits and added features make it  well worth forking out the slightly higher price. All factors have been considered in the making of this product to ensure going to the toilet is as easy and pleasant as possible for your pet's. From the Amazing  cat sensing feature, to the convenient led night light for efficient 24 hour use it makes a high quality litter box for any cat owning household. Not only will it be easy and efficient, but it will fill a place with a stylish and pleasant looking box. The advanced technology will impress any guests and your cat will certainly be the most pampered pet around.